Potato Chips Seasoning Machine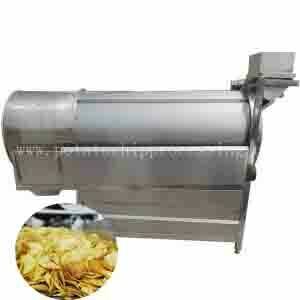 To sit in a warm couch, watch the favorite TV show, then savor a piece of crunchy crispy potato chips is the best way for us to relax during spare time. However, chips too salty or flavorless can be a disaster. The problem is the insufficient seasoning of potato chip during processing. Therefore, the quality of potato chips seasoning machine is the key. The advanced automatic seasoning machine, invented, developed independently by Shuliy Machinery, has been rolled into the production line.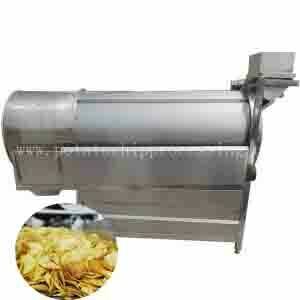 Potato chips seasoning machine operation
With easy operation, the single drum chips flavoring machine can be handled by one man. The operation procedure is simple, firstly, pour in a certain quantity of fried chips, from the upper inlet, pour in seasoning according to the quantity of potato chips. Then, turn on the seasoning machine to start seasoning. During this procedure, potato chips rolls in the inner drum over and over with the seasoning spreading on them gradually. The whole procedure cause no damage to chips and the seasoning flavor is well-proportioned. Thus, chips of uniformed flavor are produced. And we are offering two kind of models CY2400 and CY3000 with different capacity. You can choose from them according to your requirement.
If you are interested in this product, please contact us!