Blanching machine for French fries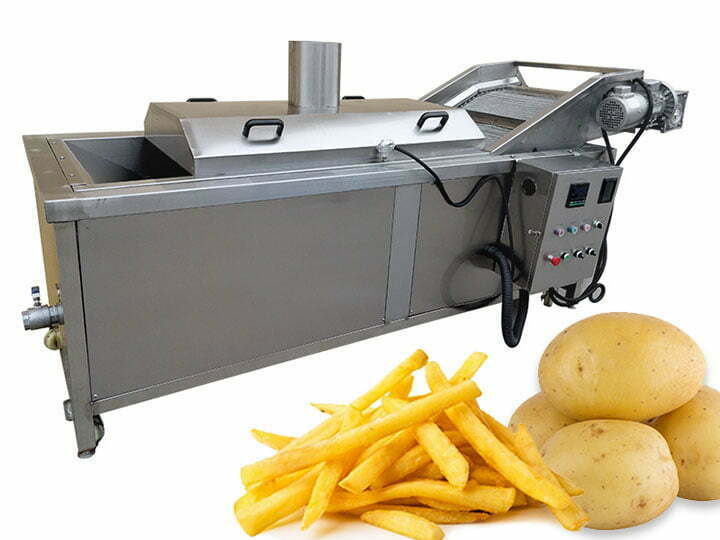 Introduction of the blanching machine:
The blanching machine is multifunctional and can process fruit and vegetable.
It has two functions: When putting cold water, it is a vegetable and fruit cleaning equipment that can be used to clean a variety of fruit and vegetables, such as carrots, apples, potatoes, etc. More suitable for growing fruit and vegetables in the soil. It does not destroy raw materials, because it has a high degree of cleanliness. and maintains its original color.
When putting hot water, it becomes a blanching machine, which can blanch some raw materials which are mainly used for vegetables, such as potatoes, carrots, etc.
Blanching machine's working principle:
The steam machine combines hot and cool and is equipped with a unique superheated steam generator. No boiler equipment is required. It has a pressureless operation, it is safe and reliable.
The machine featuring rapid killing, inhibition of enzyme color protection, and timely dehydration cooling, can keep fruit and vegetables in their original natural color. So the activity of enzymes in fruits and vegetables is stopped to maintain the unique color of fruit and vegetables.
It can retain the vegetable's aroma. This is conducive to the evaporation of water, and then laying a good foundation for the next drying and dehydration process.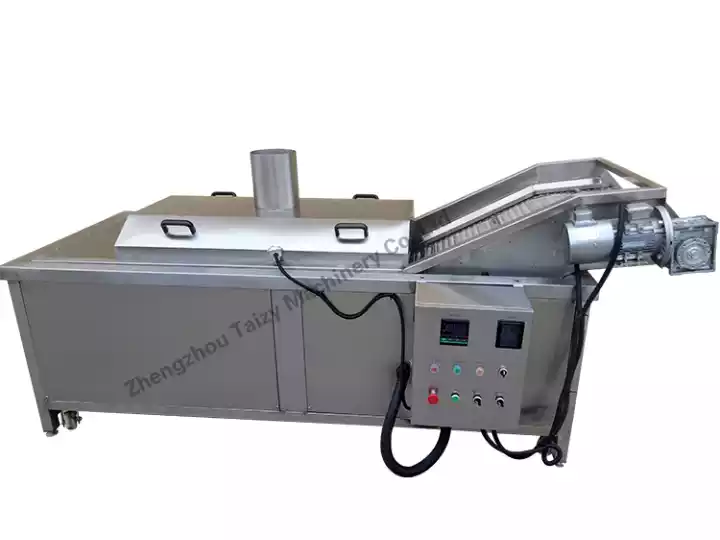 Blanching machine application:
The blanching machine is important equipment in the vegetable production line, mainly used for vegetable blanching.
The principle of the blanching machine is mainly to put a proper amount of water in the box. Water is heated by heating the tube. When the raw material passes through the tank, it will be rolled under the combination of the bubble machine and the water and continue to advance with the mesh belt.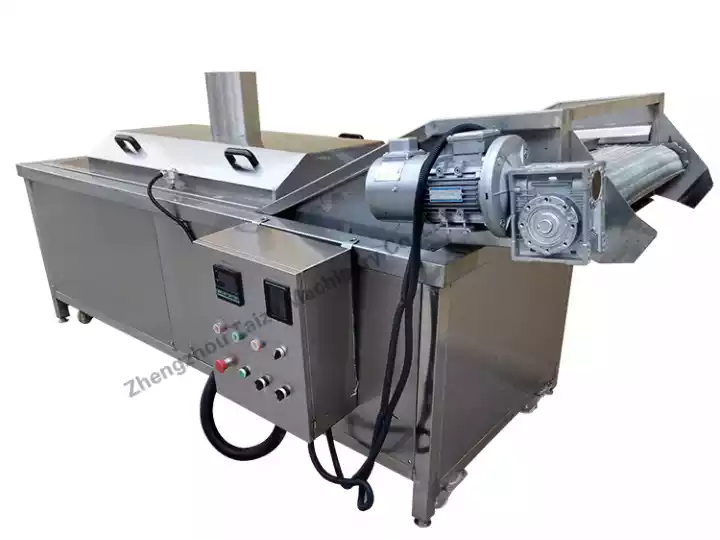 It is mainly used for fruit, root vegetables and carrots, asparagus, mushrooms, fruit slices, and other fragile products. It is indispensable blanching equipment for pre-processing such as quick freezing and dehydration. The blanching machine is often needed for the color protection process of fruit and vegetable processing. For the potato chips, the blanching time needs about 30 seconds, the blanching temperature is about 95 ℃; for French fries, the blanching time needs about 1-2 minutes, and the blanching temperature needs about 80℃. To sum up, for different materials, blanching time, and blanching temperature are different.
Customer cases:
A Polish customer named Michael, planted a large area of carrots, mainly for hawkers in the vegetable market.
However, the large areas of carrots own a big problem in cleaning. Labor salary accounts for a very large proportion of expenditure. So he found us online, hoping to find a suitable, cost-effective machine to reduce labor costs.
The machine can be used for ten years, and the labor cost of ten years can buy four or five machines. Moreover, the machine is efficient, which means a larger output.
Now he can save a lot of labor costs every month. He replied that he would have to add a machine more after his business expanded.
Blanching machine parameter:
| | | | | |
| --- | --- | --- | --- | --- |
| Model | Size | Weight | Power | Capacity |
| CY2500 | 2500*1000*1300 | 180 | 3.75 | 500kg/h |
| CY4000 | 4000*1200*1300 | 400 | 4.1 | 800kg/h |
| CY5000 | 5000*1200*1300 | 500 | 5.1 | 1500kg/h |
| CY6000 | 6000*1200*1300 | 600 | 5.5 | 2000kg/h |
You can learn more about our potato production line this way: https://www.potatochipprocessing.com/semi-automatic-potato-chips-process-production-line.html
Let's go to see the video to learn how it work: https://www.youtube.com/watch?v=WNjZJusg24k