Dehydrator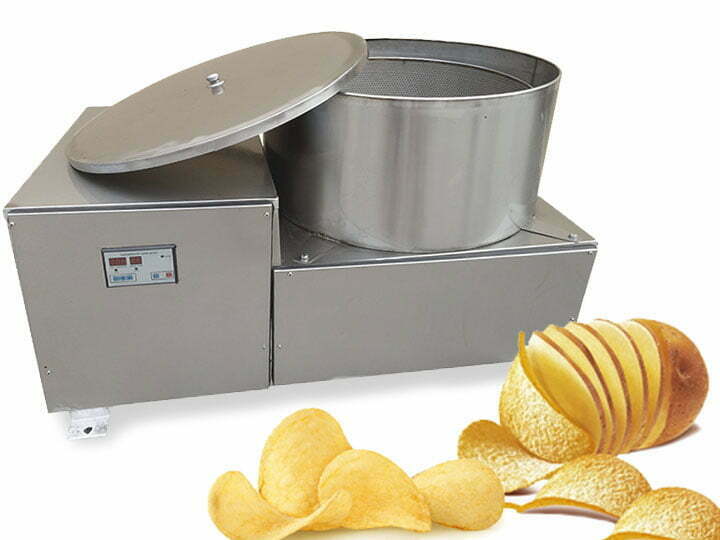 1. Dehydrator introduction
The dehydrator machine is mainly used for drying fruits and vegetables and is especially suitable for processing food products like potatoes. The principle of centrifugation does not harm the raw materials, and easy operation, saving trouble and effort. Just put the ingredients in the bucket and turn on the switch. It is a vital machine in the potato chips production line.
2. Working principle
The material is uniformly put in the sieve basket and flattened, placed in the cage, and the upper cover is closed. The dehydrator machine automatically starts working, and the centrifugal force of the cage operation causes the moisture of the material in the basket to be taken out of the basket and is removed by the drain port.
3. Advantages of the dehydrator
(1)With the shock-proof design, the dehydrator machine does not rotate during dehydration.
(2)With a digital control system, the rotation speed can be adjusted according to user needs and raw materials set time, it is very convenient and efficient and can ave your waiting time.
(3)The machine is made of stainless steel, with no rust, it is the primary choice for food processing, it can meet food processing requirements.
(4)Large-diameter drains can quickly remove water from the dehydrator and improve work efficiency.
(5)Adjusted bolts to avoid vibration caused by uneven discharge on uneven ground.
(6)It is often be set as 2min to dehydrate, but it can be customed.
4. Technical parameter
Name
Model
Size
Weight
Power
Capacity
Dehydrator machine
TZ-400
1000*500*700mm
360kg
1.1kw
300kg
TZ-500
1100*600*750mm
380kg
1.5kw
400kg
TZ-600
1200*700*750mm
420jg
2.2kw
500kg
TZ-800
1400*900*800mm
480kg
3kw
700kg
Welcome to our YouTube channel to watch videos about our products: https://www.youtube.com/channel/UCqNpKDSjr6uqKcV6UejUP8A