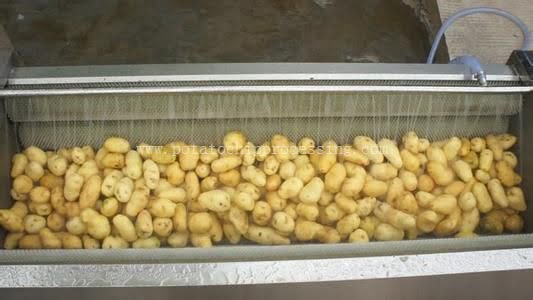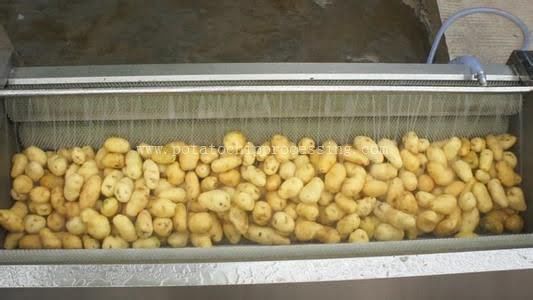 Brush potato peeling machine is widely used in the restaurant, food industry to wash and peel raw material. The machine is the first step to wash and peel a potato in potato chips/french fries production line. There are two kinds of brushes, hard brush, and a soft brush, so it can process a variety of root vegetables, fish, seafood, etc. The brush potato peeling machine is made of high-quality 304stainless steel to keep the machine safe, reliable. For the machine, it has 9 rollers, to make the brush fully contact the material and to get better clean and peel.
Working principle:
Under driven by the motor, the brushes, and raw material directly contact to produce friction to achieve the effect of cleaning and peeling; the machine is equipped with a high-pressure spray device to perform deep cleaning while rubbing and peeling; After cleaning, you can open the discharge port baffle, the material will automatically discharge.
The suitable raw material:
The machine has two kind of brushes, soft brush, and hard brush, so according to a different kind of brush, it can suit a range of raw material;
For hard brush, it has strong peel function, so the potato washing and peeling machine with a hard brush are mainly used to peel the potato, ginger, sweet potato, lotus root,ect..
For soft brush machine, at the same time as cleaning under strong pressure spray, the soft brush can also clean the surface and the uneven spots, so the machine with a soft brush is used for washing seafood, kelp, carrots, dates(dry wash), etc…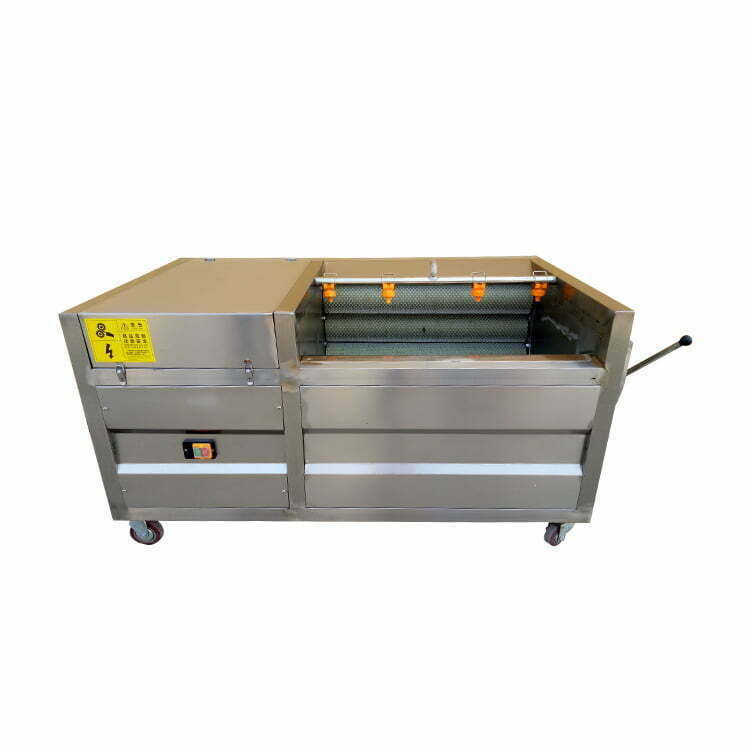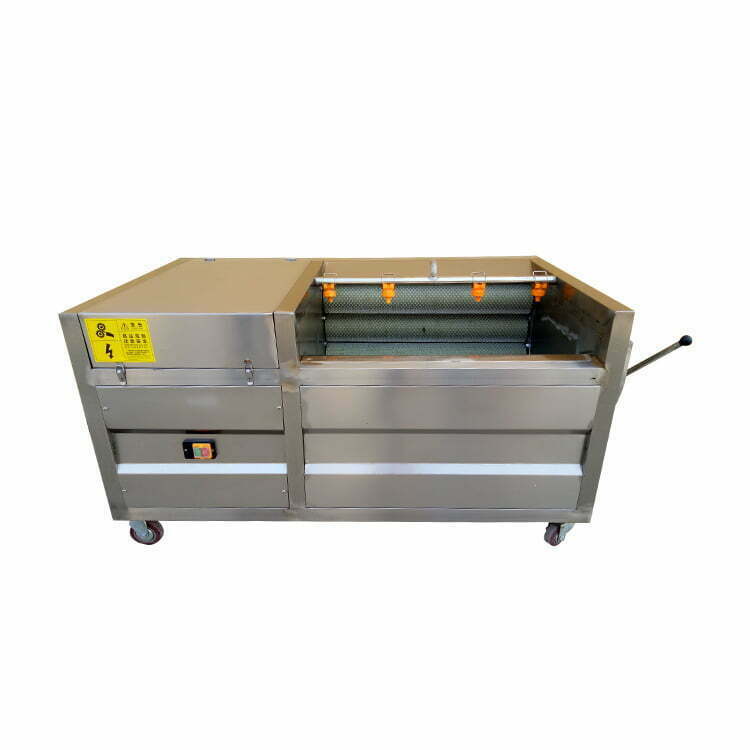 The potato peeling machine advantages:
1.With 9 nylon hair rollers. The hair rollers are made of clinker wire. They are corrosion-resistant, stretch-resistant, and have a good cleaning effect. The soft and hard rollers are optional.
2. The machine is 304 stainless steel, beautiful and clean, hygienic, and durable.
3. With high-pressure spray pipe, 360-degree rotating spray, large spray area, more thorough cleaning;
4.Easy to operate, automatically rotate  and discharge the material, which can fully clean and peel;
5. The bottom of the machine is equipped with a filter screen to centrally dispose of residues for easy cleaning.
The technical parameter:
| | | | | |
| --- | --- | --- | --- | --- |
| Model | Dimension(mm) | Weight | Power | Capacity |
| TZ800 | 1580*850*800 | 180kg | 1.1kw | 700kg/h |
| TZ1000 | 1780*850*800 | 220kg | 1.5kw | 1000kg/h |
| TZ1200 | 1980*850*800 | 240kg | 1.5kw | 1200kg/h |
| TZ1500 | 2280*850*800 | 260kg | 2.2kw | 1500kg/h |
| TZ1800 | 2580*850*800 | 280kg | 2.2kw | 1800kg/h |
| TZ2000 | 2780*850*800 | 320kg | 3kw | 2000kg/h |
| TZ2600 | 3400*850*800 | 600kg | 4kw | 3000kg/h |
The above is the simple introduction of the potato peeling machine, if you want to get more details and videoes of the cleaning machine, please contact us freely.